School Tours
School tours are offered during September and October. Because of the severe freeze affecting the apples there will be no apple picking tours this year. During the last week of September and October the children will pick pumpkins. We have completely redone our playground and have several new features.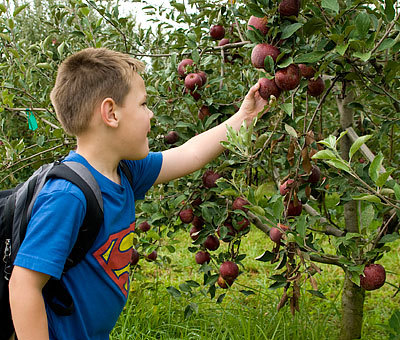 During our pumpkin tours the children will see our orchards, berries and pumpkin fields and will pick a small pumpkin. When they get back they will stop at the grading room to see how we sort and polish apples. Next they will hear a talk about bees and will sample our apple butter. After that they will have time to see the Johnny Appleseed tree and go to the playground. There is space in the playground or other areas for lunch,
In addition our Pumpkin Fantasyland displays will be up where the farmstead is decorated with pumpkin and gourd figures and hundreds of pumpkin will be on display or you can pick them in the field.
Tours for pumpkin picking can be scheduled from 8:30 to 1:30 on the dates listed above. Allow enough time to get to the farm and at least one hour for the tour. Allow even more time if there are more than two classes. To schedule tours please call us at (636) 228-4338 or e-mail us at centfarmaug@aol.com.