Fall Season – September and October
Centennial Farms has a very small apple crop this year because of a severe spring freeze.  We will have pick your own apples only on a few weekends,
starting on Saturday August 22
with Jonathan, Ruby Jon and Empire.  We have picked the early Gala apples and they are for sale in the market.  Apple butter, preserves, honey and salsa are also available. We will be open only on weekends.
The pumpkin crop should be excellent with the recent rains and we will start pick your own the middle of
September.
  There is no admission or parking charge and our playground was updated with new attractions last fall.
Staying healthy is a priority for everyone this year.  We will have no hayrides or school tours this year, and we will not be giving food samples.  Traffic in the market is one way. Masks are available for those who need them.
Apples
We grow 16 varieties of apples that ripen from the middle of August until early October.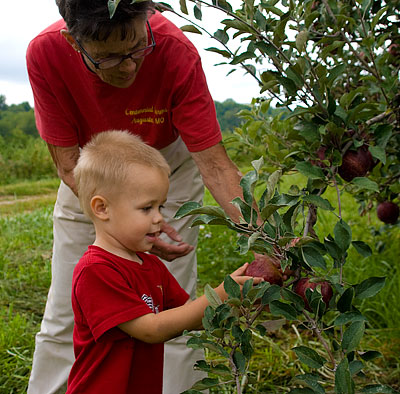 Pumpkin Fantasyland and Pick Your Own Pumpkins
The last weekend in September our farmstead turns into a "PUMPKIN FANTASYLAND". Walk into out farmstead and be surrounded by pumpkin characters and Halloween fun. We decorate with full size pumpkin and gourd figures representing farm folks, storybook characters and some of your favorite movie characters. There are aliens and a crashed spaceship. A graveyard has some very humorous inscriptions, most of them from real cemeteries. Mixed in with the figures are hundreds of pumpkins from minis to some big ones. You can also go to two fields and pick your own pumpkins. We have an assortment of winter squash and decorative gourds.
From Our Farm Kitchen
Our market is stocked with the apple butter we make and about 20 kinds of preserves. Honey from the farm will be available. In addition we sell a large selection of preserves, salsa, pickles, relishes, candy and other items from various suppliers.