Fall Season – September through November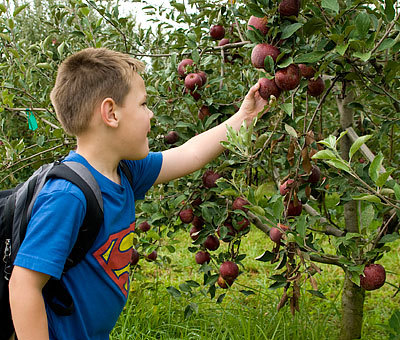 Apples
We are expecting a much bigger apple crop this year. We grow 24 varieties of apples which ripen in succession from mid August until mid October.  You can pick your own apples in September and early October or get them already picked in our market.
Please call ahead or check our home page to check availability of pick your own apples.
Fall Vegetables
We grow acorn, butternut and spaghetti squash and have new crop sweet potatoes for sale.
Pumpkin Fantasyland
Starting the last weekend of September our farmstead is turned into "Pumpkin Fantasyland" where you will see a whimsical collection of pumpkin figures dressed as farm folks, storybook characters and aliens. Hundreds of pumpkins, gourds, Indian Corn, and other fall decorations add to the color.
On weekends we open our FARM FUN LAND play area for children. There will be mazes, a fort, grain bin, play tractor and lots of photo opportunities along with hayrides around the farm. It is worth the trip to Augusta just to see the fall colors.
From Our Farm Kitchen
During any season you will find our market stocked with delicious items from our farm kitchen. We make two flavors of apple butter, about 20 varieties of preserves, peach butter, blackberry syrup, chili sauce and relishes. We also have our own honey from the hard working bees in 24 hives.
OUR MARKET IS OPEN
FROM JULY THROUGH EARLY NOVEMBER